Fire Middle East magazine and website provides the most successfully integrated media platform in the Middle East region.
The magazine is the leading publication for Fire and Safety professionals across the GCC and Middle East. With a circulation of 14,000 and wider readership of over 42,000, consisting of fire fighters, engineers installers, integrators, suppliers and buyers. The print magazine infiltrates the civil defence, ministries of interior, government agencies, oil and gas companies, construction companies, real estate developers and design consultants.
The web site is ranked No1 on most major search engines like Google and receives over 12,000 hits per month, providing a one stop shop for fire industry professionals, commercial ventures and government projects. The FME Interactive magazine is emailed out to over 150,000 fire and safety professionals and provides the perfect platform to demonstrate your own products directly to these decision makers.
Follow us on twitter @firemiddleast for the latest industry updates or for more information about Fire Middle East magazine, website and range of online services
please visit- www.firemiddleeastmag.com
Btobrail was created by Patrick OSEI, who had a vision of delivering powerful, high-quality, feature-rich marketing solutions that enabled businesses to unlock their potential.
It all started back in 2004. Back then, Patrick launched Railway Business Guide, a magazine specialized for the railway industry distributed throughout Europe.
Within the framework of evolution of the magazine, he developed a considered and critical approach towards the new media. Analysing the effects of an increasing penetration of the world-wide web on magazine reader habits, he felt he had to make the transition to the digital revolution. And that's what he did in 2012 when he created btobrail.com.
Btobrail.com is now specialized in providing web-marketing and digital solutions for businesses in the railway industry and public transport world-wide.
BUILDING DIGITAL SUCCESS STORIES
As a company, we believe in being connected to the world around us. That's why we work closely with businesses as their strategic partner to provide long-term digital services through web, advanced contents, emailing's, and leads generation solution.
If you are dealing with our development team, our advisors, or our business team, you are assured of a consistent, professional and friendly service. As we continue to grow we have worked hard to ensure that our core values have been retained and are ever present in all that we do. We are not only dedicated to digital marketing, we also help our clients to drive successful business strategy focused on maximizing the online opportunities. Improving your visibility, getting more traffic, leads and sales. That's what we do the best.
EVERY CONNECTION COUNTS
We seek partnerships, not projects. We believe extensive collaboration is what drives innovation. Focused on user needs and integrated with innovation in mind. Ongoing, this approach allows us to continue to easily and efficiently iterate and improve the experience.
Visit Us: www.btobrail.com
The FIA is the largest fire protection trade association in the UK with 900+ members.
We are a not-for-profit organisation and a major provider of fire safety training. Our objective is to promote, improve and perfect fire protection methods, devices, services and apparatus.
We achieve this through the representation of our members, providing technical support, guidance and opportunities for professional advancement through education and appropriate regulation.
We promote and shape legislation and the professional standards of the fire industry through close liaison with government and official bodies, as well as other key stakeholders.
We also provide funding for research projects in line with our principal objectives.
Visit Us: www.fia.uk.com
International Fire Protection Magazine
IFP Magazine is the only international journal dedicated to fire safety, prevention and protection covering every aspect of the passive and active fire protection market.
The editorial features are written by industry experts and comprise a unique blend focusing on the latest technology and equipment as well as highlighting sector specific issues from around the world. Regular product and company profiles, events updates and news make IFP the first choice read for fire safety professionals.
Railway-News is the leading rail news and information portal. Our purpose is to provide operators and manufacturers with the latest information globally on the sector and suppliers in the field.
Our range of digital products includes:
The portal www.railway-news.com
The weekly railway-news newsletter
The quarterly magazine railway-news digital magazine
Our social reach on LinkedIn, Twitter and Facebook
TunnelContact.com is an invitation-only networking community for the tunnel & underground professionals.  Among the members of the community are some of the most influential subject professionals in the world.
TunnelContact.com aims to facilitate the professional networking and stimulate the professional solidarity by sharing information. As a platform, it is a prime source for the wide-ranging tunnelling related information contributed by professionals from all corners of the world.
Often tunelling news are posted on TunnelContact.com before they appear on professional news sites. In some cases, news from non-English sources appear in English language only at TunnelContact.com. The range of posts on the platform varies from tunnelling news, jobs, technological developments to relevant social subjects.
Among the major platforms and publications specific to its subject area, TunnelContact.com is the only networking platform as well as being the only one with user-generated content.  As a member, you can post about any relevant subject, including over your company's products & services and invite your colleagues to our community. If you are not a member yet, you can ask for an invitation with the right credentials- please check the TunnelContact.com page.
TunnelContact.com is the official media partner for the ITA-AITES World Tunnel Congress 2022 in Copenhagen, Denmark, as well as for the past event of ITA-AITES World Tunnel Congress 2020 in Kuala Lumpur, Malaysia.
Looking for up to date information on tunnelling tenders, awards and news? Want to be able to track a project from its conception to completion then subscribe to the tunnelbuilder website. Our team is constantly updating the website with news and information about the global tunnelling market 24 hours a day 7 days a week. As soon as information comes in we will publish it, if you are using our tracking system it will email you when a new tender comes in keeping you ahead of the game!
If you want to advertise remember the key to Internet advertising is its availability – on tunnelbuilder whenever the reader wants you, you can be there, 24/7 for 52 weeks of the year! Tunnelbuilder keeps your company logo in front of our readers, so that, when they need your services, they know exactly where to find you. We guarantee that your company will be seen by 1,000's of visitors every day. We will also promote your company through all our social media continuously as part of your advertising package.
To find out how you can benefit from targeted advertising on tunnelbuilder please visit: https://tunnelbuilder.com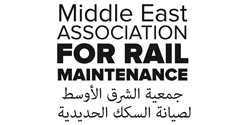 The Middle East Association For Rail Maintenance is a senior community of key stake holders and decision makers, a faculty designed to accelerate the advancements in rolling stock and asset management maintenance via technologies and solutions across the Middle East region. Our objectives are to promote and facilitate knowledge and best practices across the rail sector.